Thinkbaby Safe Sunscreen SPF 50+ 3OZ
Thinkbaby - Safe Sunscreen SPF 50+ - 3 oz. (89mL)
Thinkbaby Safe Sunscreen with SPF 50+ is the standard for safe sunscreen. It applies and is absorbed easily with a non-oily feel. Thinkbaby Safe Sunscreen is water resistant up to 80 minutes and is Dermatologist recommended. Its active ingredient is 20% Zinc Oxide. Thinkbaby Safe Sunscreen was the first sunscreen to pass Whole Foods Premium Care Requirements. It has been top rated by EWG with a "1" rating since 2010. Free of biologically harmful chemicals, it does not contain any paraben, phthalates, PABA, UV chemical absorbers, avobenzone, oxybenzone, or 1,4 dioxane. It has the highest SPF 50+ per FDA 2012 Rules - any sunscreens boasting higher are falsely marketing, and it provides the highest level of Broad-spectrum UVA and UVB protection (per FDA 2012 Rules), plus the highest level of water resistance (80 minutes) (per FDA 2012 Rules).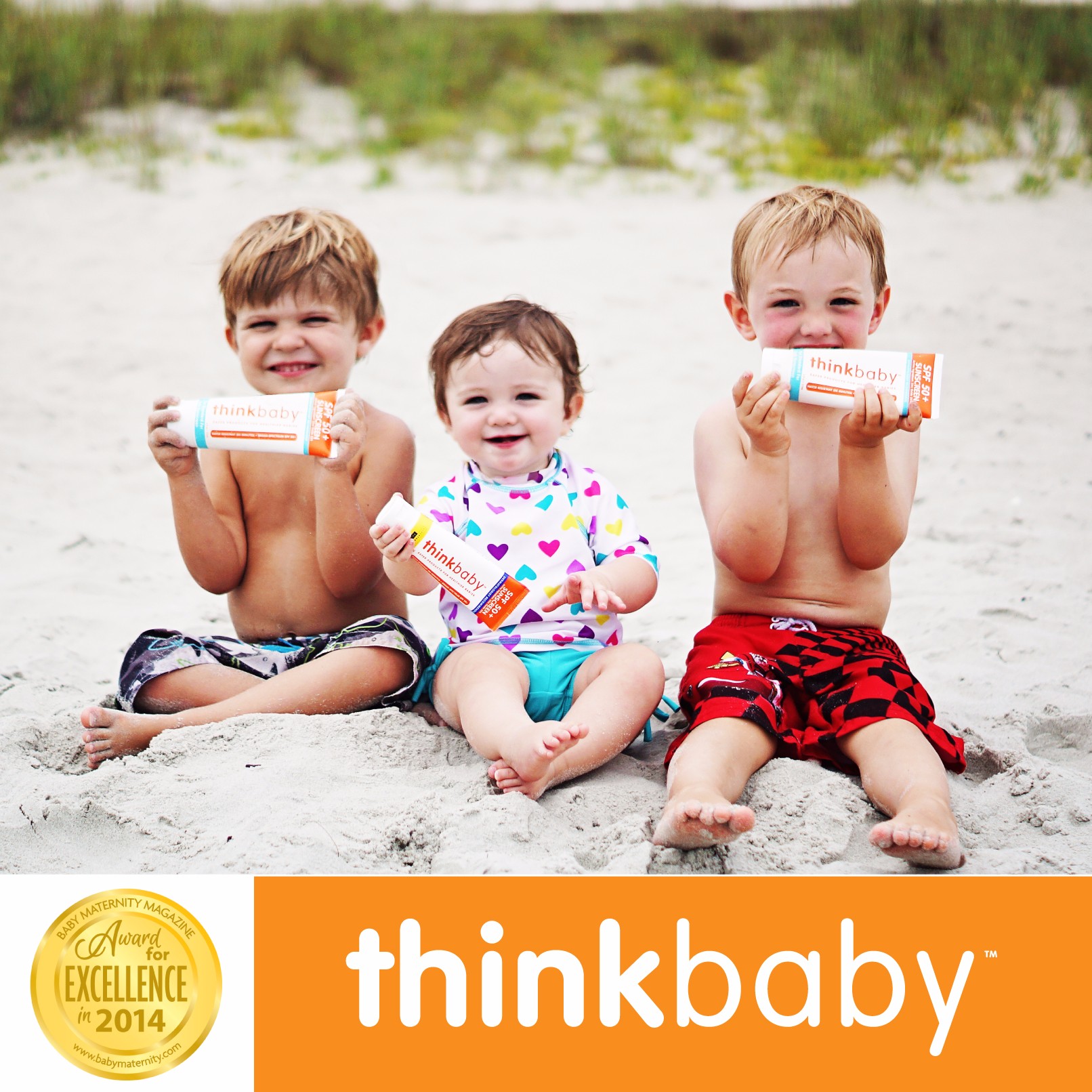 Non-nano formulation - Average particle size >100micron
Non-aerosol formulation (High concern of both ineffectiveness and particulates being inhaled)
Free of biologically harmful chemicals
Sunscreen produced in the USA
Does not have an obtrusive smell that many organic sunscreens have.
A member of the Safe Cosmetics Campaign Compact
Foundering member Sun Safety Coalition
Gluten free (third-party verified)
No animal testing (Leaping Bunny member)
More awards than any other sun care line
Featured in: Tennis, Bicycling, Natural Child, Daily Candy (top pick), Men's Health (top pick), Competitor, Backpacker (Top Pick), Standard, People Magazine (Must haves), Pharmacy Times, Men's Journal (top pick), Chicago Tribune, The Bump (Top pick), Favored.by (Top Pick), Times Square, The Daily Green, YNN News, Denver News (Must haves), Triathlete, Cribsie and Red Hat Product Finalist. Eco - Excellence Finalist. Silver Award NAPPA, Baby Maternity Magazine (Top pick), Babble (Top 10 Best), Its a Belly (Seal of Excellence), Metro Moms (Hottest Product), Green Scene Mom (Winner) and a whole lot of blog reviews...
Endocrine Disrupting Chemicals
Endocrine disrupting chemicals are foreign chemicals which have the ability to mimic hormones in the body. These foreign chemicals, known as xeno compounds, have ability to bind to receptors, both on the external membrane of cells or on receptors on the nucleus. In some instances the xeno compounds block your body's natural hormones from doing their job. In other instances, they cause they cell to initiate the hormonal receptor's particular function. What troubles scientists is not only the increased rate at which cells are being triggered, but the timing, as the processes that take place in the body are highly sensitive.
Recent scientific research is changing previously held notions that the "Dose Makes the Poison". The earlier held thought was that if a little is bad, alot is much worse. Instead, laboratory studies show hormone disrupting chemicals exhibit the opposite phenomenon. Whereby, minute quantities of these chemicals cause adverse effects in laboratory animals, and large amounts can have smaller effect. Industry has completed roughly 15 studies attempting to discredit worldwide research (over 100 studies) which show alarming effects on laboratory animals. Conducting conclusive studies would require testing on pregnant mothers and infants which would be unethical. instead of waiting for more science, parents are switching to alternative products.
Suggested use:
Apply liberally 15 minutes before sun exposure.

Reapply:
After 8 minutes of swimming or sweating
Immediately after towel drying
At least every 2 hours.
Ingredients:
Purified Water (0), Aloe Barbadensis Leaf Juice (0), Capric Caprylic Triglycerides(0), Sorbitan Stearate (Coconut Based) (1), Pine Wood Resin (0), Vegetable Glycerin (0), Cetyl Dimethicone (0), Hydrogenated Castor Oil (0), Magnesium Sulfate (Epsom Salt) (0), Sunflower Oil, Jojoba Oil (0), Ascorbic Acid (Vitamin C) (0), Tocopherols (Vitamin E) (1), Olive Oil (0), Raspberry Seed Oil (0), Cranberry Seed Oil (0), Hyaluronic Acid (Made From Vegetable) (0), Glucose & Glucose Oxidase And Lactoperoxidase (0), Papaya (0).
Warnings:
For external use only.
Do not use on damaged or broken skin.
Stop use and ask a doctor if rash occurs.
When using product keep out of eyes. Rinse with water to remove.
Keep out of reach of children. If swallowed, get medical help or contact a Poison Control Center right away. Protect this product from excessive heat and direct sun.
Manufacturer Info:
About Thinkbaby
With a team of physicians and scientists focused on the latest chemical and biological science, Thinkbaby and Thinksport continue to lead in the usage of safe materials for consumer products. Their efforts are further energized by working to with their leading child advocacy partners and like-minded individuals who seek alternative products.

It became clear during the founder's work within a biological testing lab (non-animal) that products on the market were fraught with issues. It didn't matter if the product was made in China, the US or Switzerland, there were chemicals leaching that had the potential to cause endocrine disruption, cancer, and reproductive harm. It also became quickly clear that governmental regulation was not on the near horizon. So Thinkbaby and Thinksport set off to create alternatives. The company first identified baby bottles, as 95% of the bottles on the market were composed of Bisphenol-A (BPA), a chemical that is suspected to disrupt the endocrine system. They then proceeded to target other products within the baby feeding realm and where led by parents to design a sports bottle. Thinkbaby and Thinksport approaches each product category with the same criteria. Safe. Functional. Sustainable.

The first line in the sand that they draw surrounds material safety. They don't jump on new materials just because they are free of one chemical. The reason for that is the potential for landing on some other potentially harmful chemical exists. Instead they stay keenly focused on the latest emerging studies. They understand the difference from valid science and industry-funded science. They won't work with scientists or doctors that endorse specific products. You can buy doctors like that anywhere, and its bad medicine in Thinkbaby and Thinksport's opinion.

They ask is the product functional? They don't want to create the same old tired thing in the market place. For example, they looked at the surplus of single-walled sports bottles in the market. While they have the potential to be safe, you can't cold fill them or hot fill them. So they look at the problems within a category and look to improve upon the category. They also put economical into the functional category. The goal is to have product that is pocket book friendly. It doesn't make sense to produce product that only a few affluent individuals can afford. If they are going to help the world, they need to make sure that the world can obtain safe solutions.

Finally they look to make their products sustainable, and they do this in two ways. Either the product needs to have an extremely long use life or it needs to be recyclable. The truth is that they try to do both. Their baby bottle line can be transformed in to their award wining sippy cup. This ability alone allows a parent to save their 8-10 bottle and use them for at least another year. This saves both parents money, but more it saves the environment from excess waste. All of the baby bottles are made from No. 5 plastic and can be recycled. When they built their complete BPA Free feeding set, they lined the products with stainless steel. They not only last the first child's use, but the second as well. They always hear from parents about how much they like using them.

Their mission as a company is to provide safe consumer products. They don't wait for a material to make headline news in order to make a change. They will continue to expand their products suite to offer alternatives to existing products on the market. They hear more and more folks refer to them as a lifestyle brand focused on safe products and that is truly the goal.
Expiry date:
June 2018